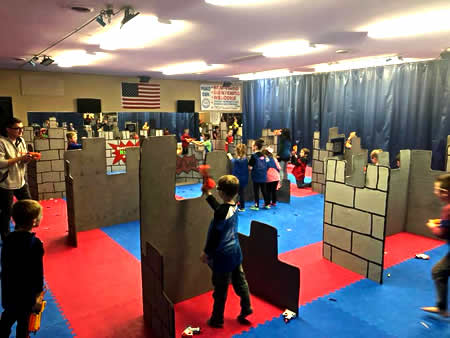 Nerf War parties are Homann Karate Do's most popular event. We offer them as birthday parties, day care field trips, church youth groups, scout troops, or for any special occasion.
Nerf War parties are for ages 5 to adults and are similar to paintball matches, except nerf darts don't hurt!
Our referees will move the barriers and bases around to set up three different game scenarios.  All three games are very different. HKD Birthday Parties are a blast and with a Nerf War Party you can blast away! Book your party today! 
Nerf Wars Birthday Parties
$245 for up to 17 participants
$6 for each additional participant with a maximum of 30 participants
Party Schedule
The first 90 minutes is spent playing 3 Nerf Wars matches. Our referrees will move the barriers and bases between matches to give your party guests three different Nerf Wars scenarios.
The remaining 30 minutes is spent in our birthday party room for food, cake, and presents.
NOTE: You may arrive 30 minutes before your party is scheduled to start to greet your guests and to do any personalized set-up, if needed.
Who May Participate
Nerf Wars parties are intended for ages 5 through adult. Children under age 5 must have a parent or guardian with them at all times.
Each participant must have a signed release form to participate. You can download a printable release form here.
What We Provide
Homann Karate Do will provide:
Tables and chairs
Generic birthday decorations, including plates, cups, plastic utensils, napkins, table cloths, and balloons.
Nerf guns and darts
Referees
What You May Provide
You may bring your own party decorations if you want a specific theme
Cake, ice cream, party food (pizza, chips, etc.)
Beverages
Deposit
A $50 non-refundable deposit is required to hold your date and is due at the time you book your party.
The balance is due on the date of your party.