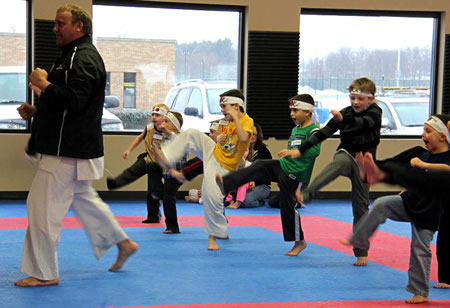 Karate parties are 2 hours long and for ages 5 thru adults.  You and your guests will participate in 90 minutes of karate instruction, board breaking, and karate related games.
The remaining 30 minutes will be for you to celebrate with cake, drinks, and presents with your guests.
Karate Birthday Parties are a blast and very memorable. Schedule yours today and you will have a kicking-good time!
Karate Birthday Parties
$175 for up to 17 participants
$6 for each additional participant with a maximum of 30 participants
Party Schedule
Your Karate Birthday Party will consist of 50 minutes of karate instruction, 25 minutes of karate games, and 15 minutes of board breaking. Each child will break a board, and the birthday child will break two boards.
The remaining 30 minutes is spent in our birthday party room for food, cake, and presents.
NOTE: You may arrive 30 minutes before your party is scheduled to start to greet your guests and to do any personalized set-up, if needed.
Who May Participate
Karate birthday parties are intended for ages 5 through adult. Children under age 5 must have a parent or guardian with them at all times.
Each participant must have a signed release form to participate. You can download a printable release form here.
What We Provide
Homann Karate Do will provide:
Tables and chairs
Generic birthday decorations, including plates, cups, plastic utensils, napkins, table cloths, and balloons.
What You May Provide
You may bring your own party decorations if you want a specific theme
Cake, ice cream, party food (pizza, chips, etc.)
Beverages
Deposit
A $50 non-refundable deposit is required to hold your date and is due at the time you book your party.
The balance is due on the date of your party.